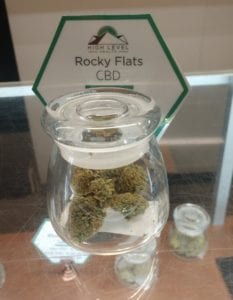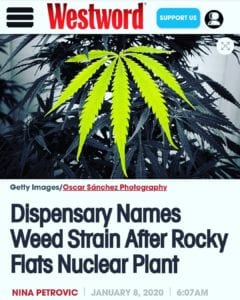 Westword 1/8/20 : Dispensary Names Weed Strain After Rocky Flats Nuclear Plant.
Update 8/10/19 The Rocky Flats CBD Cannabis Strain is now available select @highlevelhealth stores in Denver Colorado. 
Rocky Flats Cannabis Strain Project
The Background:
Raising awareness about the former Rocky Flats Nuclear Weapons Plants and its nuclear legacy is an important part of Rocky Downwinder's mission. Because what you DO NOT KNOW can hurt you, we work hard to let young people, new comers and visitors to the area know about Rocky Flats using different means and methods. Most recently, we are working with a local cannabis company to produce a high CBD 1:1 strain of cannabis called " Rocky Flats". Having a high CBD cannabis strain on the self called "Rocky Flats" can bring relief to people while creating a conversation and raising awareness about the former plutonium trigger factory.

Rocky Flats Cannabis Strain Project-
Master Grower and Geneticist, Chaz Kobayashi has committed to undertake the Rocky Flats Strain Project (@Chaz_man_thegardener on Instragram).  
CANNABIS :: APRIL 17, 2019
OutFront Magazine– interview with 
Chaz Kobayashi about the Rocky Flats Strain Project (page 29).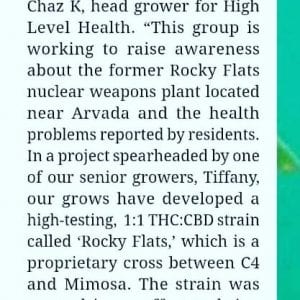 Rocky Flats (c4 x mimosa) 1:1 (15%  THC-15% CBD)