Rocky Flats Downwinders remains a dedicated advocate of advancing the research of health impacts of living Downwind of Rocky Flats.
In 2019, Rocky Flats Downwinders Director, Tiffany Hansen begins working with medical Dr. Sasha Stiles and nurse Shaunessy McNeely to re-create a health survey for Rocky Flats Downwinders. Please check back and stay tuned our social media outlets for updates.
In 2016, Metropolitan State University released a survey designed to better understand the health impacts of living near the Rocky Flats Nuclear Weapons Plant. Carol Jensen initiated the first of its kind health survey. In 2018, Carol retired and no facility took over this project. IT IS CLOSED.
Despite our repeated requests, Jeff Helton, Chair of the Healthcare Management Program at Metro, chose NOT to appointment a new Principal Investigator.
Below is the map of the Boundaries of the original study.
If you were a resident of the areas circumscribed by the boundaries of Highway 7/168th/Arapahoe Avenue on the north, I-25 on the east, Colfax Avenue on the south, and Highway 93 on the west (see map) from 1952 to the present day Metropolitan State University invited you to take the health survey.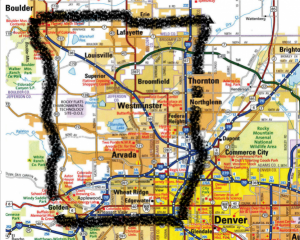 For the preliminary findings of the Metropolitan State University health survey released in November 2016, click here.