DOWN-WIND-ER: A person living downwind of a nuclear test site, weapons plant or reactor, where the risk from fallout or radiation leaks is greatest.

The Rocky Flats Plant operated from 1952 until 1989 as part of the United States' nationwide nuclear weapons complex. The Rocky Flats facility manufactured plutonium trigger mechanisms for nuclear weapons from various radioactive and hazardous materials. Manufacturing activities, accidental industrial fires and spills, support activities, and waste management practices contaminated soil, sediment, groundwater and surface water with hazardous chemicals and radioactive constituents.
To participate in our Community Driven Health Survey of Rocky Flats Downwinders please click here.

We are incredibly grateful to Physicians for Social Responsibility (PSR) Colorado for endorsing our Community-driven Health Survey of Rocky Flats Downwinders, to better understand the health implications of living near Rocky Flats.
"Physicians for Social Responsibly (PSR) Colorado endorses the Rocky Flats Downwinders Community-driven Health Survey. PSR recognizes the past, present and future dangers to human health due to living, working and recreating in proximity to a current Superfund site and former plutonium trigger manufacturing facility for nuclear war heads". PSR President-elect Sasha Stiles.
Young Breast Cancer in Colorado is a
a new Facebook page set up by Brittany Kelley who, at only 35 years old was just diagnosed with triple negative, grade 3, IDC (one of the most difficult types of BC to treat)  and has a sister who also had breast at 25. She wants to better understand the occurrences of young breast cancer in Colorado. She is mapping the result (see below). To submit information if you are a young young with breast cancer, please click here.  For the news story, click here. UPDATE: AS OF NOVEMBER 2021 OVER 160 YOUNG WOMEN WITH BREAST CANCER HAVE REACHED OUT TO YOUNG BREAST CANCER IN COLORADO.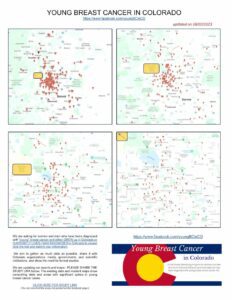 Did you know there is NO formal signage at Rocky Flats?
Former Representative Wes McKinley introduced House Bill 10-1127. Let's continue his important work. Contact your state Representative and state Senator and demand signage at Rocky Flats.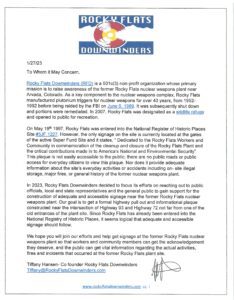 PSR Colorado (Physicians for Social Responsibility) endorses and supports the efforts of Rocky Flats Downwinders for signage as outlined in the proposal shared above.- Harv Teitelbaum (Board co-chair)PSR Colorado (Physicians for Social Responsibility)

"We stand in solidarity with Rocky Flats Downwinders to establish signage at Rocky Flats.  Rocky Flats Downwinders is an organization with a history of strong advocacy for the most vulnerable in our population and all people who have been impacted by the environmental contamination caused by the Rocky Flats Plant.  It is important for present and future generations to be aware of what happened at Rocky Flats in order to make informed decisions to protect their health and safety."  Chris Allred Rocky Mountain Peace and Justice Center. 

"I strongly support the need for adequate signage at Rocky Flats, and have advocated this for years. It is absolutely essential that the public, locally and beyond, are fully informed as to the history and current conditions of the Rocky Flats site. Historically, the Rocky Flats nuclear weapons plant was a key part of the Cold War, and signage is important for that reason alone. The environmental impact of the plant, and its devastating legacy, must be acknowledged. The efforts of the workers, and the health issues they and their families suffered, is an important part of that story. However, most significantly, ongoing studies and public health reports indicate that the Rocky Flats site may be a continuing threat to public health. It is crucial that the people of Colorado, as well as those of the greater United States and beyond, understand and are aware of the historical and environmental significance of this site, as well as any potential risk or danger Rocky Flats poses to the present day." — Kristen Iversen, author of Full Body Burden: Growing Up in the Nuclear Shadow of Rocky Flats and editor, Doom with a View: Historical and Cultural Contexts of the Rocky Flats Nuclear Weapons Plant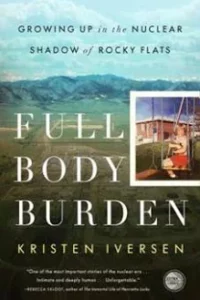 "There is an urgent public health need to install signage at Rocky Flats that would educate the public about this former nuclear weapons site". Harvey Nichols, Ph.D. on behalf of the Rocky Flats Technical Group, 2/27/2023.
A film by artist and documentarian Jeff Gipe. Coming Soon.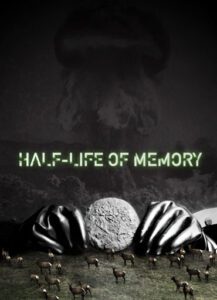 The Public Health Risk of Disturbing the Soil Along Indiana Street
for Jefferson Parkway Construction by Randy Stafford, Member
Jefferson Parkway Advisory Committee.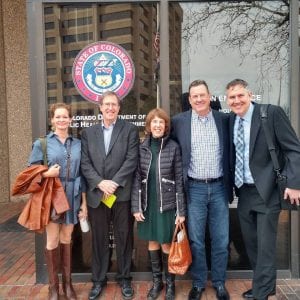 Rocky Flats Downwinders Meets with CDPHE's new Executive Director, Jill Hunsaker Ryan joined by  Dr. Mark Johnson, head of Jefferson County Public Health Department, Dr. Sasha Stiles, Randy Stafford and Nick Hansen, Esq. (3/18/19)
In November 2016, Metropolitan State University released Preliminary Results of its Health Survey of Rocky Flats Downwinders. Data pertaining to illness was geoplotted on a map of the survey area. Two sourced maps of contamination from the plant in the form of radiation and fires were overlaid on the geoplotted data to identify possible correlation between illness and radiation exposure in the area.iii The results are anecdotal, compelling, non-conclusive.

Please sign on to Halt the Rocky Mountain Greenway.