FOR IMMEDIATE RELEASE
May 16, 2016
ROCKY FLATS DOWNWINDERS AND METROPOLITAN STATE UNIVERSITY OF DENVER TO LAUNCH HEALTH SURVEY ON MAY 17TH
SURVEY WILL FOCUS FOR THE FIRST TIME ON RESIDENTS LIVING DOWNWIND FROM ROCKY FLATS
(Denver, CO)- In an effort to address long standing questions and concerns in the Arvada,  Westminster, Broomfield and surrounding communities regarding high rates of illnesses, Metropolitan State University of Denver (MSU Denver) in partnership with Rocky Flats Downwinders will conduct a health survey to determine if there are identifiable health effects experienced by residents that have lived downwind from the former Rocky Flats Nuclear Weapons Plant. The survey will launch on the Rocky Flats Downwinders website, www.rockyflatsdownwinders.com on May 17, 2016. Rocky Flats Downwinders, a community organization, reached out to local universities for assistance last fall in creating a health study. A working group comprised of professors from three of Colorado's top universities, MSU Denver, Colorado State University, and University of Colorado at Boulder as well as health care professionals, members of the scientific community and local community groups have provided advice on the survey design. The interdisciplinary group is the first of its kind to assist in researching the health impacts on residents who lived near the Rocky Flats Nuclear Weapons Plant.
The health survey, approved by MSU Denver's Internal Review Board and follows HIPPA Guidelines, will collect health data on those people living in the areas circumscribed by the boundaries of Highway 128/120th Avenue on the north, I-25 on the east, I-70 on the south, and Highway 93 on the west between 1952 and 1992 (See map below). Those interested can get more information and access the survey by going to the Rocky Flats Downwinders website www.rockyflatsdownwinders.com.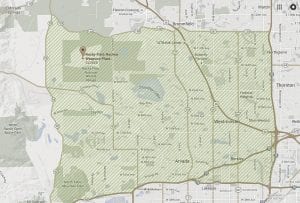 CONTACT:
Carol Jensen, R.N.,
Professor, MSU
303-556-3493
jensenc@msudenver.edu
Tiffany Hansen M.A.
Rocky Flats Downwinders, Co-Founder
303-681-1364
tiffany@rockyflatsdownwinders.com
Dr. Stephanie Malin, Ph.d
Professor, CSU
970-491-5414
Stephanie.Malin@colostate.edu
Dr. Donna Goldstein, Ph.D.
Professor, CU
303-492-5482
Donna.Goldstein@Colorado.edu
Dr. Jeff Helton, Ph.D., CMA, CFE, FHFMA
Professor, MSU
jhelton2@msudenver.edu
Nicholas Hansen, Esq.
Hansen Law Firm, LLC
303-785-7777
nick@hansenlawfirm.com