July 7, 2017 we received approval from the IRS and are now a 501(c)(3) Non-profit Organization. DONATE NOW ON OUR FACEBOOK PAGE! Please donate to the Rocky Flats Downwinders so we can keep our awareness building campaigns, educational programs, health studies and supportive services alive and flourishing. We will welcome your tax deductible contribution here soon. If you can't donate money, your time is invaluable. Please consider joining our team of volunteers.
"We cannot seek achievement for ourselves and forget about progress and prosperity for our community… Our ambitions must be broad enough to include the aspirations and needs of others, for their sakes and for our own". Cesar Chavez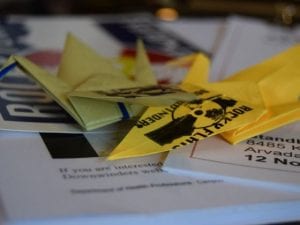 How to Volunteer with the Rocky Flats Downwinders 
The Rocky Flats Downwinders has been fortunate to have a group of wonderful, caring people like you involved in its organization and efforts. The way to truly make change is through collectively organizing and we welcome your participation. As a volunteer you can determine how your time is spent and how much time you give. As a volunteer based organization, we value your time and interest and are willing to work with you individually to ensure your time volunteering is both rewarding and enjoyable to you.
Rocky Flats Downwinders Organization Mission 
Our goals are to bring about awareness of Rocky Flats in order to educate the community, to sensitize medical professionals regarding potential adverse health effects suffered by Downwinders, and to obtain medical monitoring for Rocky Flats Downwinders, as well as inclusion under the Radiation and Exposure and Compensation Act (RECA). If you value our mission and want to help our cause, we encourage you to volunteer with the Rocky Flats Downwinders. Please contact email Tiffany@rockyflatsdownwinders.com if you are interested in volunteering with us.