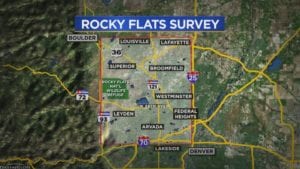 To participate in our Community Driven Health Survey click here. The boundaries are CO-7 on the north, I-25 on the east, I-70 on the south, and Highway 93 on the west for people living, recreating or working in the area between 1952 and the present.

We are incredibly grateful to Physicians for Social Responsibility (PSR) Colorado for endorsing our Community-driven Health Survey of Rocky Flats Downwinders, to better understand the health implications of living near Rocky Flats.
"Physicians for Social Responsibly (PSR) Colorado endorses the Rocky Flats Downwinders Community-driven Health Survey. PSR recognizes the past, present and future dangers to human health due to living, working and recreating in proximity to a current Superfund site and former plutonium trigger manufacturing facility for nuclear war heads". PSR President-elect Sasha Stiles.
In 2019, Rocky Flats Downwinders Director, Tiffany Hansen began working with Physician Sasha Stiles, Nurse Shaunessy McNeely and other concerned community members to re-create a health survey for Rocky Flats Downwinders. 
Metro State University's Health Survey
In 2016, after we connected with the Integrative Health Department, Metropolitan State University released a survey designed to better understand the health impacts of living near the Rocky Flats Nuclear Weapons Plant.
Carol Jensen initiated the first of its kind health survey. In 2018, Carol retired and no facility member took over this project.
IT IS CLOSED.
Despite our repeated requests, Jeff Helton, Chair of the Healthcare Management Program at Metro, chose NOT to appointment a new Principal Investigator.
Below is the map of the Boundaries of the original study.

For the preliminary findings of the Metropolitan State University health survey released in November 2016, click here.
Data pertaining to illness was geoplotted on a map of the survey area. Two sourced maps of contamination from the plant in the form of radiation and fires were overlaid on the geoplotted data to identify possible correlation between illness and radiation exposure in the area.iii The results are anecdotal, compelling, non-conclusive.
Within the 1,745 completed surveys for the 64-year time period, there were 848 cases of cancer with 414 of those cases being cancers designated as "rare" (less than 15/100,000 people). These rare cancers account for 48.8 percent of the total cancer cases for these survey results as compared to the US rate for "rare" cancers which is 25 percent.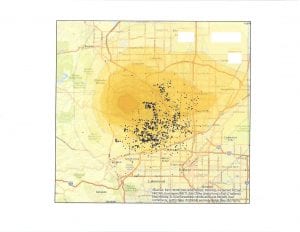 Young Breast Cancer in Colorado is a
a new Facebook page set up by Brittany Kelley who, at only 35 years old was just diagnosed with triple negative, grade 3, IDC (one of the most difficult types of BC to treat)  and has a sister who also had breast at 25. She wants to better understand the occurrences of young breast cancer in Colorado. She is mapping the result (see below). To submit information if you are a young young with breast cancer, please click here.  For the news story, click here. UPDATE: AS OF NOVEMBER 2021 OVER 160 YOUNG WOMEN WITH BREAST CANCER HAVE REACHED OUT TO YOUNG BREAST CANCER IN COLORADO.